Laser Cutting Process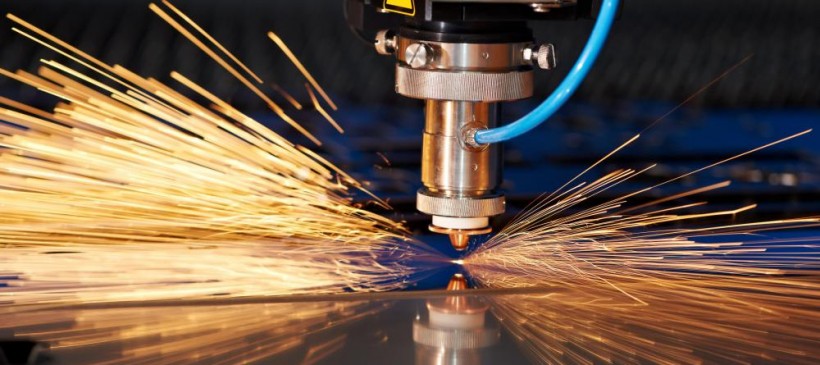 The laser cutting focuses on the output of the high-powered laser to engrave or cut materials like metal, wood, plastics, and many more. The area of specialization for USA Contract Manufacturing Specialists is steel laser cutting.
The technique is predominantly used for industrial manufacturing even though it is becoming more widespread in other industries and also schools. Laser cutting is an effective way to cut and engrave metallic materials even though it has its own set of challenges.
It is good to understand that lasers aren't the answer to all the applications. However, the laser cutting process provides efficient use of materials, flexibility, and a controlled and repeatable process.
One key benefit of the laser cutting process over the other techniques like punching and stumping is the ability to work with minimal contact.
The typical cut width of 0.010 inches allows the laser cutters to be used in small-radius cutting. The small kerf supports close nesting of parts and assists in minimizing the waste of materials.
In addition, you can heat treat the materials after the cut with no distortions. Unlike the traditional cutting methods, you will not require any reforming and grinding after laser cutting.
When you plan similar laser cutting jobs to run together, you can also reduce the setup time significantly. The other tips include keeping the material close to the laser cutting table, using shuttle tables, building ergonomic workstations, creating modular fixtures among others.  You can also increase efficiency by the use of delivery optics that can be changed quickly, indicating procedures, and eliminating alignment. Reputable brands like USA Contract Manufacturing Specialists use these tips to make the laser cutting process a success.
Setup Time
The set-up time for the laser cutting process can be so long when you are preparing to cut unfamiliar metals. Some of the factors that influence the process include focal length, speed, gas pressure, assist gas, optical focal length, and nozzle power. These parameters are so crucial to the process such that if you fail to set them correctly, you won't be able to cut the material. However, with the correct combinations, the cutting speed can be several times faster than the other cutting methods.
You can reduce the setup time using several methods. First, you must keep meticulous methods. You must also use a reliable database of time-tested parameters for known conditions, specifications, and materials. The parameters for the same materials are often wide-ranging. The requirements for flatness, heat-affected zone, tolerances, and surface finish can change the parameters significantly.